C.S.T. SERVICES ALBUM- HMI PROJECTS- VALVE MANUFACTURING PLANT:
FOUR HEAD DRILL TAPPER MACHINE

---
This page has a few images from the 4- head drill- tapper control project
Last Update Sunday November 26, 2006
---
The scope of this project was to completely "gut" an existing machine they purchased at an auction, and modifiy it to suit their needs. They had no documentation, and it would not have mattered anyway, because it was completley altered to their new requirements. The old control panels contained control relays and timers.
We rebuilt the machine with a GE FANUC VERSAMAX Micro PLC and used a Red Lion G308 HMI
THE NEXT SCREEN IS THE MAIN PAGE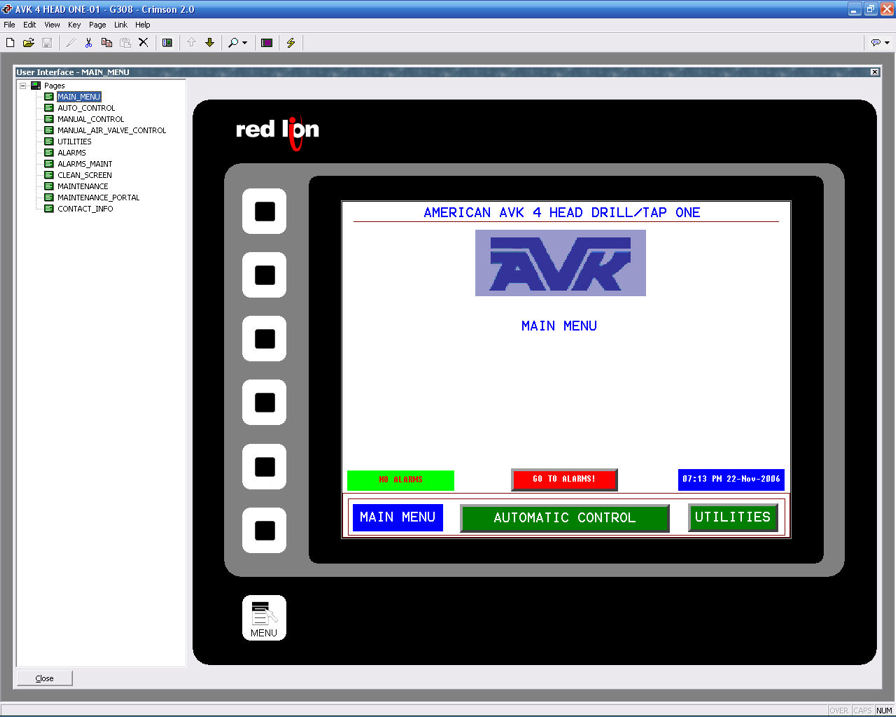 THIS IS THE AUTOMATIC OPERATION SCREEN- IT AUTOMATICALLY DRILLS AND ROTATES TO TAP POSITION, TAPS THEN RETURNS HOME.
THE WORK PIECE IS MANUALLY CLAMPED AND UNCLAMPED FOR SAFETY REASONS. THE CYCLE RESET CLEARS THE BIT SEQUENCER.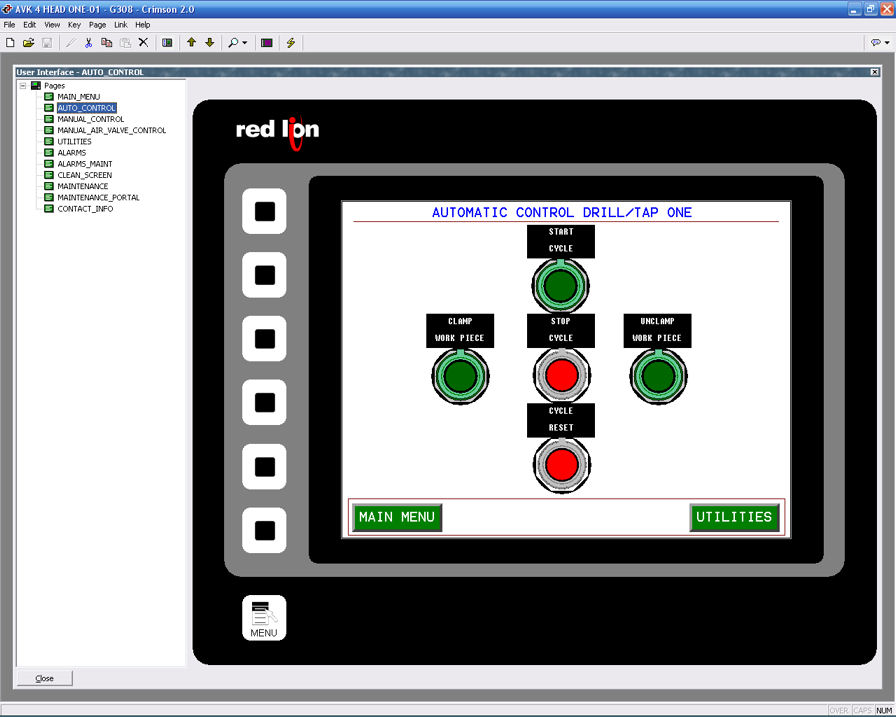 THE NEXT SCREEN IS A PORTAL TO MORE UTILITY FUNCTIONS. IF THE MAINTENANCE FUNCTIONS PORTAL BUTTON IS PRESSED,
A POPUP KEYPAD APPEARS REQUIRING A USER NAME AND PASSWORD TO CONTINUE.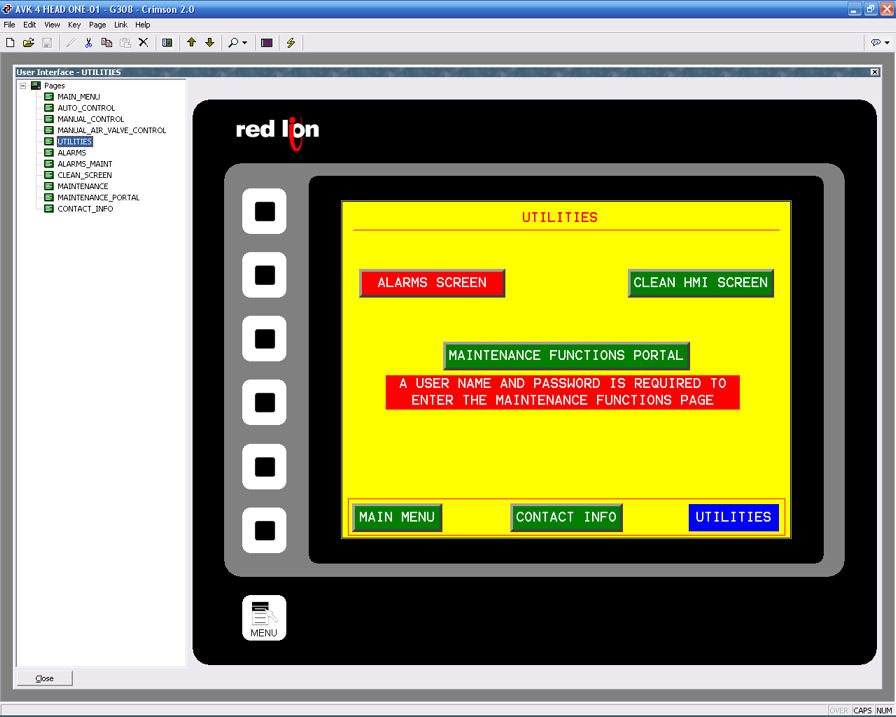 THIS SCREEN IS FOR MAINTENANCE FUNCTIONS. IT IS FOR MANAGEMENT, SUPERVISORS AND MAINTENANCE PERSONNEL.
USER NAME AND PASSWORD REQUIRED.
The system also has the capability of logging users with time and date stamp so management can see who has made any changes to the system and when.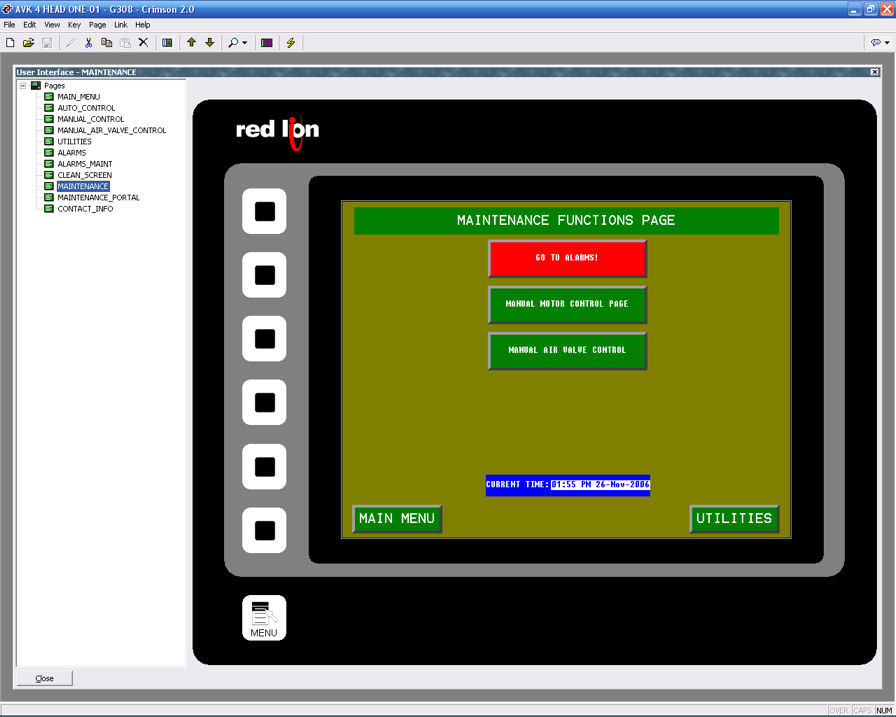 THE NEXT SCREEN IS FOR MAINTENANCE PURPOSES. IT ALLOWS QUALIFIED PERSONNEL TO MANUALLY CONTROL THE MOTORS.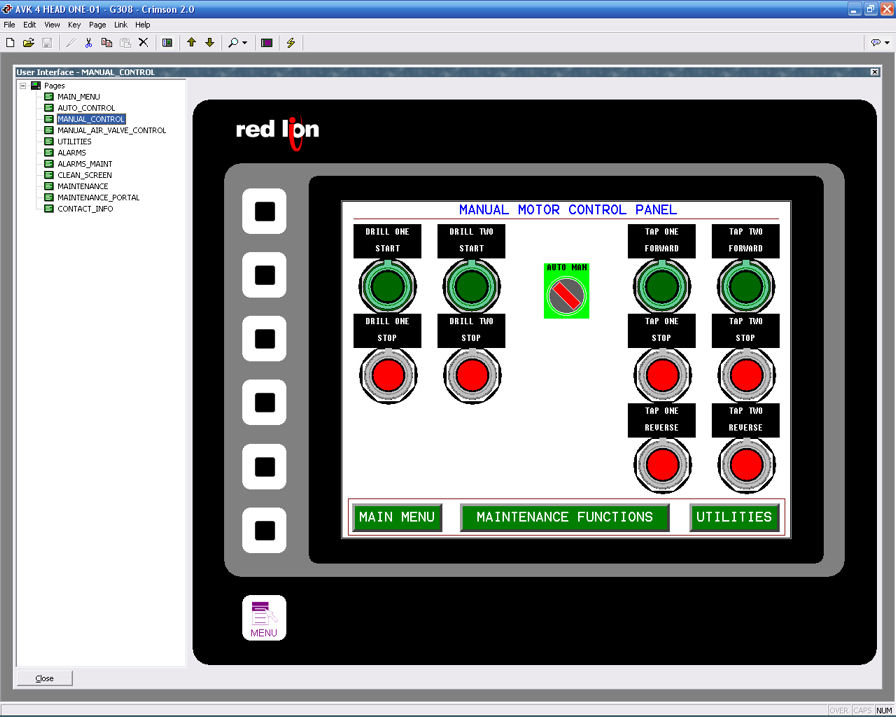 THE NEXT SCREEN IS FOR MAINTENANCE PURPOSES. IT ALLOWS QUALIFIED PERSONNEL TO MANUALLY CONTROL THE AIR VALVES.
THE AIR SOLENOIDS ADVANCE AND RETRACT THE 2 DRILLS AND 2 TAPPING MOTORS. THE FEED RATE IS CONTROLLED WITH AIR THUMBSCREWS.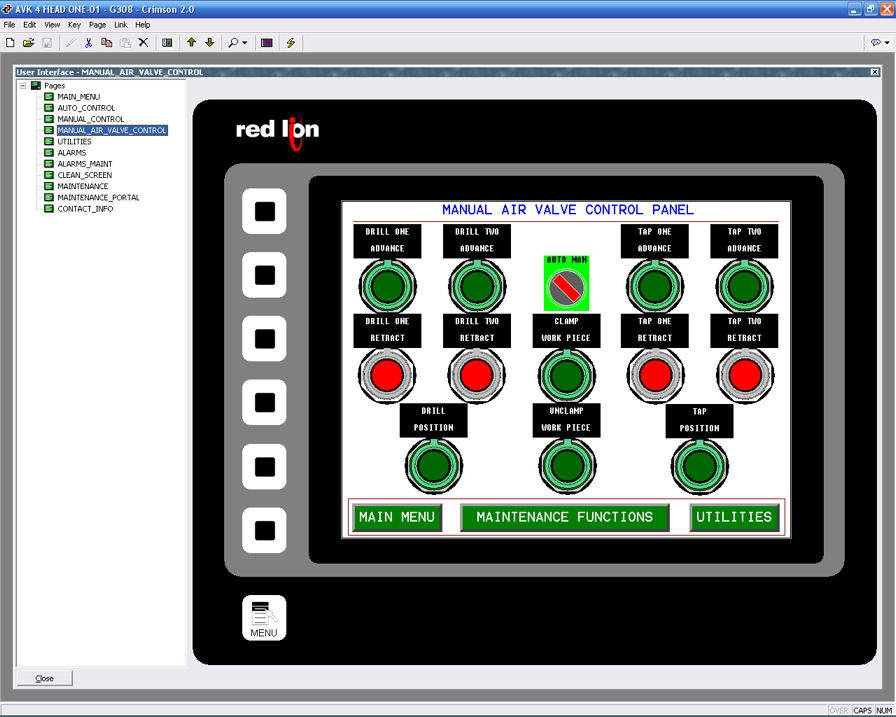 THE NEXT SCREEN PROVIDES CONTACT INFORMATION FOR MAINTENANCE PERSONNEL (OUR BUSINESS CARD).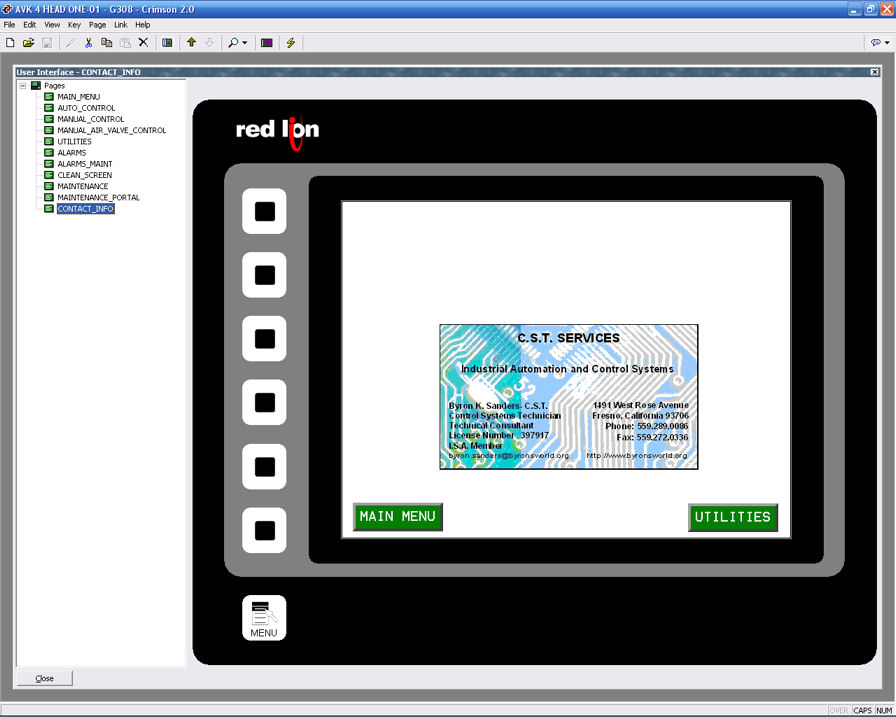 THE NEXT SCREEN SHOT IS FROM GE FANUC PROFICY LOGIC DEVELOPER, WHICH WE USED TO DEVELOP THE VERSAMAX PLC LOGIC
WE ARE NOT SHOWING ALL THE RUNGS OF LOGIC DUE TO INTELLECTUAL PROPERTY RIGHTS- WE JUST WANT TO SHOW A SAMPLE OF OUR ABILITIES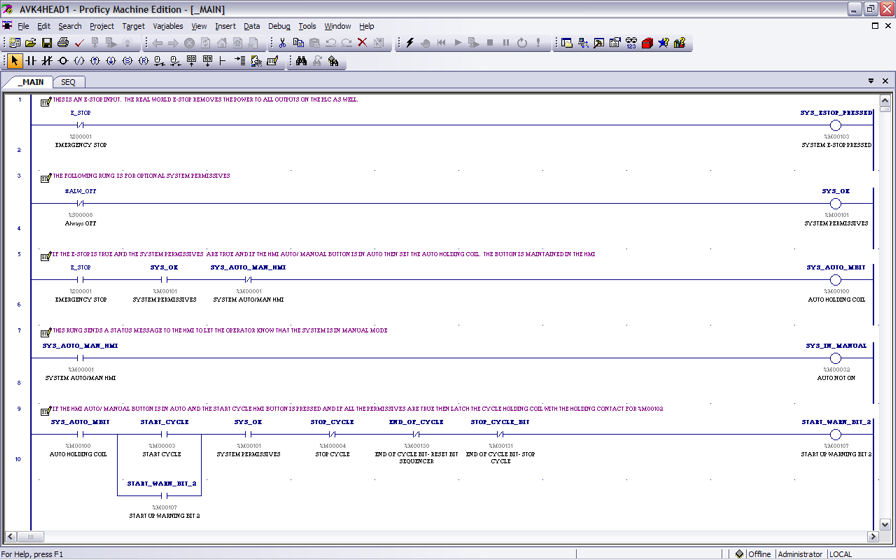 THE NEXT SCREEN SHOT IS ANOTHER ONE FROM GE FANUC PROFICY LOGIC DEVELOPER, THIS SUBROUTINE IS FOR THE BIT SEQUENCER LOGIC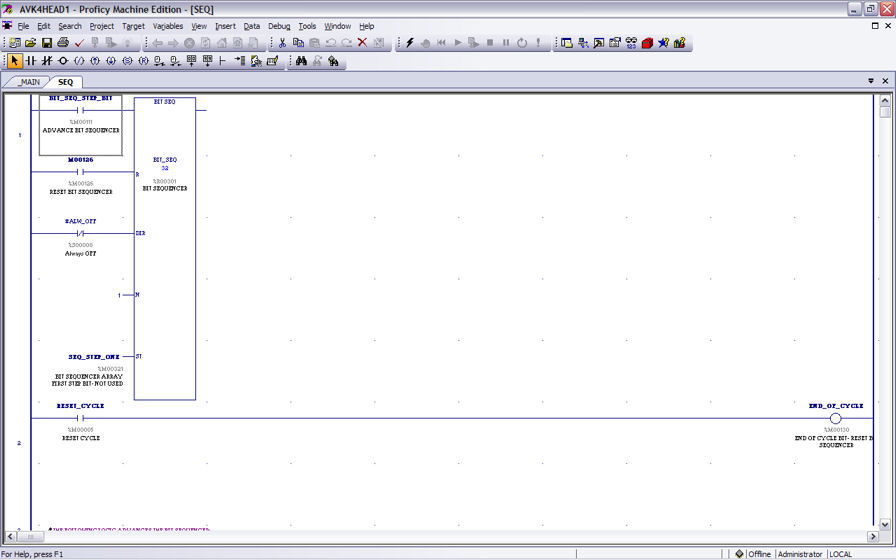 COMMENTS: The G3 series of Red Lion HMI's have the following features:
Built in web server- with custom webpage ability
Supports remote access for control of the HMI on a PC or laptop via an Internet Browser
Supports 4 simultaneous multi-branded PLC connections and I/O mapping between them
Built in programming in "C"
Built in Ethernet; initial configuration via USB or SERIAL; 5 serial ports- RS232, 485, and MODBUS
For more information contact the Red Lion website:
http://www.redlion.net
CONTACT C.S.T. SERVICES FOR HELP ON YOUR NEXT AUTOMATION PROJECT! RETURN TO THE FRONT PAGE FOR OUR CONTACT INFORMATION.
RETURN TO C.S.T. SERVICES MAIN PAGE

All rights reserved by Byron K. Sanders and C.S.T. SERVICES